Special Meeting on Irregular Migration in the Indian Ocean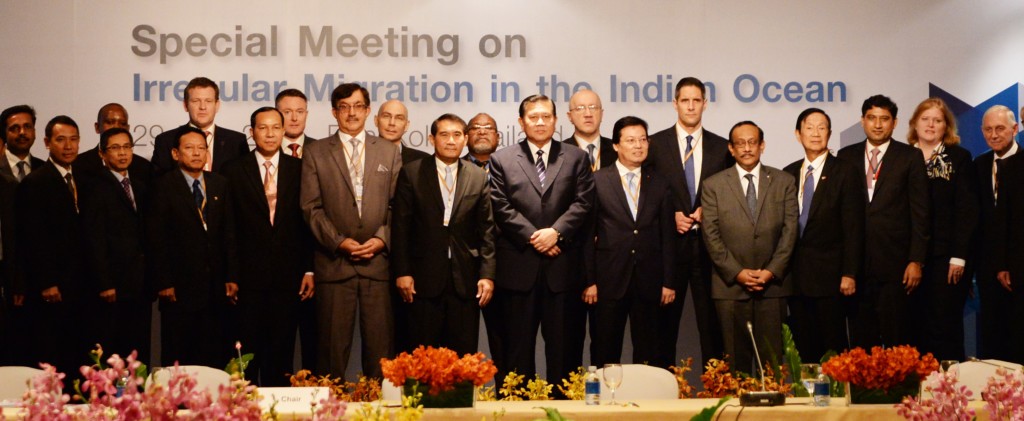 Ministry of Foreign Affairs: Press Release on 29 May 2015, On 29 May 2015, the Royal Thai Government hosted a Special Meeting on Irregular Migration in the Indian Ocean in Bangkok. The Meeting was attended by senior officials from 17 affected member countries of the Bali Process, the United Nations High Commission for Refugees (UNHCR), the United Nations Office on Drugs and Crime (UNODC), the International Organization for Migration (IOM), and the UN Resident Coordinator for Thailand. Representatives from Japan, Switzerland, and the United States attended as observers. Ambassadors and Charge d'Affaires based in Bangkok also observed the meeting.

H.E. General Tanasak Patimapragorn, Deputy Prime Minister and Minister of Foreign Affairs of Thailand, in his opening remarks reiterated the urgency for every country in the region and the international community to work together on the issue of irregular migration in the Indian Ocean in a comprehensive and sustainable manner.

The Meeting was chaired by Mr. Norachit Sinhaseni, Permanent Secretary of Ministry of Foreign Affairs. Representatives of IOM and UNHCR presented overviews on the current global and regional situation of irregular maritime migrations. They emphasized the importance of burden sharing in addressing this challenge. Representatives of the key affected countries namely, Bangladesh, Indonesia, Malaysia, Myanmar and Thailand inform the meeting of the situation in their respective countries and their efforts in addressing the problem.

Participants engaged in active and constructive deliberation on three agenda items: 1) immediate response in protection of people stranded at sea, 2) comprehensive prevention of irregular migration, smuggling of migrants, and trafficking in persons, and 3) addressing root causes and improving livelihood in at-risk communities.

Participants agreed that the issue of irregular maritime migration is a regional problem that cannot be solved by any one country alone, and that countries of origin, transit, and destination and the international community must work together in addressing the problem.

In terms of immediate regional response to save lives at sea, several proposals and recommendations were put forward. These include intensifying search and rescue operations; exploring further means for identifying disembarkation options; proper and harmonized reception arrangements for those rescued; identifying and screening of those with protection needs, particularly the vulnerable groups; strengthening information and intelligence sharing mechanism; establishing a mechanism to administer and ensure necessary support, including resources and resettlement and repatriation options. The meeting also stressed the importance of mobilizing resources of the international community in response to the appeals of international organizations.

On comprehensive prevention of irregular migration, smuggling of migrants and trafficking in persons, the meeting discussed to strengthening national law enforcement and cooperation to eradicate transnational organized criminal syndicates; identifying national contact points; strengthening information sharing as well as consider establishing a special investigation taskforce among the key affected countries. The meeting also discussed the development and implementation of comprehensive multimedia regional communication campaigns to deter irregular migration and promote legal, affordable and safe channels of migration.

Delegates also stressed the importance of addressing the root causes and improving the livelihood in at-risk communities through, among other things, capacity building of local communities; provision of economic incentives to create more jobs, skills training, infrastructure development; enhancing a sense of security and belonging; promoting full respect of human rights and adequate access of people to basic rights and services.

The meeting welcomed the pledge by the United States of America of 3 million USD to IOM's appeal and Australia's pledge for an additional 5 million AUD in humanitarian assistance to Rakhine States and Cox's Bazaar. Japan indicated that it would consider increasing its humanitarian assistance.

The participants expressed appreciation to Thailand for the timely holding of this Special Meeting. The meeting was conducted in a constructive and productive manner. Further discussions on addressing the issue of irregular maritime migration will be pursued under existing frameworks including bilateral consultations; the Bali Process, particularly the next Ministerial Conference to be held in 2015 as well as the ASEAN Ministerial Meeting on Transnational Crime (AMMTC).