PM addresses the issue of illegal migration from the Bay of Bengal area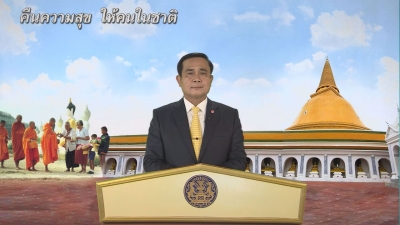 English subtitle of PM weekly televised address on 29 May 2015
Start at 6.28 minute
There is one urgent issue the Thai government will have to address immediately. This matter concerns illegal migration from the Bay of Bengal area. The government has made its stance clear that it will provide humanitarian aids to these migrants. Thai people are kind-hearted and we have always been helpful to others especially our allies. For example, we sent help to the victims of Japan's tsunami, India's floods, and Nepal's earthquakes. We were one of the very first countries to send help. Despite the size of our country, we are willing to lend a helping hand to our friends who are in dire need of support. We will provide at our best capacity. As for the problem of illegal migrants, I think all countries as well as international organizations should join hands to set clear assistance policies, be they health and medical treatment, food supply, and the facilitation of travelling to another destination. Thailand is only a transit country, not their destination. I instructed the Ministry of Defense to establish the Operation Center for Patrol and Humanitarian Assistance to Irregular Migrants in the Indian Ocean (OCPHAM). The center is responsible for 1) patrolling on land, in the air, on the water and 2) setting up floating operating bases to mobilize humanitarian efforts based on international standards and in accordance with illegal immigration laws.
Today, the Ministry of Foreign Affairs hosted a conference dubbed "Irregular Immigration in the Indian Ocean", opening up an opportunity for all stakeholders to constructively discuss and draw up guidelines to resolve and prevent illegal migration in a more concrete and sustainable way. 16 countries taking part in the conference included Australia, Indonesia, Malaysia, Cambodia, Lao PDR, Myanmar, Vietnam, Bangladesh, along with observer states Switzerland and the US, as well as representatives from the UNHCR, International Organization for Migration (IOM), and the United Nations Office on Drugs and Crime (UNODC). The aim of the conference was to accelerate joint efforts to address the issue at the upstream, midstream, and downstream levels under the principle of "international burden sharing", with an attempt to avoid possible conflicts. The results of the conference will be made known once they become available. I believe we will have answers to all problems. I want to see efforts mobilized in all levels and in both the short and long terms. There will be answers to what to do in the initial phase, where will be budget come from, who will be the implementer, or should we do it in separate ways. All these questions would be answered at the meeting. We cannot tell other countries what to do. They are entitled to their opinions. Our diplomatic relations will not be afflicted by unconstructive news. Problems exist everywhere in every country. If we could just work together, these problems will be rectified. We will not seek any blame but will do our job the best we can. Every life is valuable regardless of nationality and religion.
In order to address the IUU problem, the government has established the Command Center for Combating Illegal Fishing (CCCIF), a special center overseen by the PM. In early May, various government agencies expedited measures to tackle the IUU problem, with the Center for Maintaining National Maritime Interests as the coordinator in cooperation with the Royal Thai Police, Labour Ministry, Fisheries Dept, and Marine Dept. These agencies drew up the national inspection plan for structural adjustments and the revision of related laws. The Fisheries Act, which has recently been passed and will be put into law on June 10, is in line with EU's regulations and will help us better manage marine resources. On top of that, at least 17 organic laws will be issued. As for overseas factors, the government will seek joint cooperation and agreements with other nations in compliance with international standards.
In terms of stranded and detained fishing crews, the government has been working hard to bring back Thai crews from Ambon Island and other islands in Indonesia. From 1 Oct 2014 to 25 May 2015, the Foreign Affairs Ministry, Royal Thai Embassy in Jakarta, and the Dept of Consular Affairs, were able to bring home a total of 618 fishermen. The last batch was 29 crew members from Ambon Island who came back on May 25. Earlier there were 29 fishermen returning from Benjina Island, 5 from Tarempa Island, and another 5 from Ambon Island. On May 26, the Thai government contacted Indonesia, asking it to issue certificates of identity to the remaining fishing crews so that they could return home. 80 more on Ambon Island are waiting to be transported back. So are another 327 on Benjina Island. These fishermen are going through investigations, the process of which the Thai side has asked the Indonesian government to shorten, so as to allow them to return home as soon as possible.
On behalf of the Royal Thai Government, I would like to thank Indonesia and all its related agencies for your efforts to address the problem that has been overlooked for a long time. We have to differentiate victims from criminals as well as prove their nationality. We must have effective implementation methods, strict regulations, and rehabilitation processes, all of which must be in compliance with international standards. In this context, I do believe that there are more good people than bad. We must encourage good conduct and punish offenders through the law and the justice system. At least, this will set an example for our children and make our country grow. There must not be conflict between law enforcers and law-abiding citizens.
End at 13.51 minute